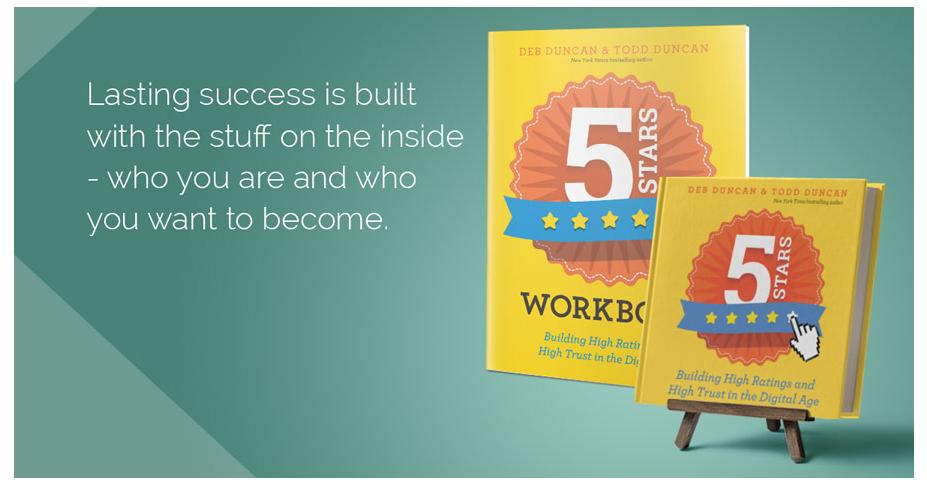 Welcome to the Future
"Welcome to the Future"
from 5 Stars: Building High Ratings and High Trust in the Digital Age
by Deb & Todd Duncan
Every second, there are 2,472,160 emails sent, 118,294 YouTube videos viewed, 53,208 Google searches, 2,050 Skype calls made, 1,481 Tumblr posts uploaded, 487 Instagram photos published, and 7,135 tweets sent.

In the seconds it took you to read the above paragraph, all of those numbers increased by ten.

We are in the infancy of the technology revolution, and in the future, the speed and impact of a consumer's ability to positively or negatively influence others will increase exponentially. But, paradoxically, while high tech has increased our ability to communicated, it has decreased the amount of connection a customer feels with the companies he or she interacts with.

In business today, everyone in the company is in a high-stakes game to sell. Someone will get the customer! Someone will get the sale! The questions is who.

This is where the journey begins—the future of selling. It's a world where high trust is more important than ever and is the catalyst for influence, retention, and referrals. It's a world where high tech can be a strategic advantage, helping to build digital fences of value around your client. This is the alchemy of 5 Stars.
"Trust is the glue of life. It's the most essential ingredient of effective communication. It's the foundational principle that holds all relations-marriages, families, and organizations of every kind- together." —Stephen R. Covey