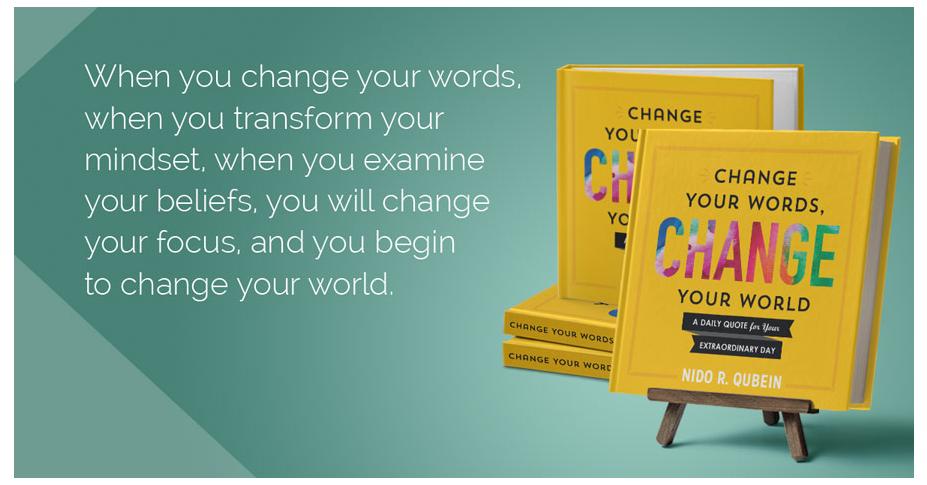 Introduction
from Change Your Words, Change Your World
by Nido R. Qubein
Are you making every day, every moment count? Are you grateful for oxygen? For friends and family? For work and leisure? Your life is measured by who and how you influence and impact others. Purpose leads to passion, energy, action, success, and significance. Significance leads to the one result we all want—happiness.
Much of our life journey depends on our attitude, our beliefs, our behaviors, and our words.
This book of daily quotes includes thoughts extracted from my books, speeches, seminars, and recordings. It takes you a minute to read a page each day. That's it. But that minute could turn you in a direction loaded with serendipities worth exploring.
I believe in the art of the possible—that there is no such thing as unrealistic dreams, only unrealistic timelines. As a consultant and coach to businesses and executives around the world, I've seen lives changed through the purposeful adjustment of attitude and spirit. As president of High Point University in North Carolina, I've watched shy, reserved students transform their demeanor to one of pride and a focused future.
This book is about cultivating your life as a ritual of choices—the daily choice to remain positive even when you are surrounded by negativity, to stay upbeat even when life's music may be somber, or to be grateful even when you feel like you have nothing.
When you change your words, when you transform your mindset, when you examine your beliefs, you will change your focus, and you begin to change your world.
Place this book in a visible spot in your home or office.
Read a page a day, and watch the transformation begin.