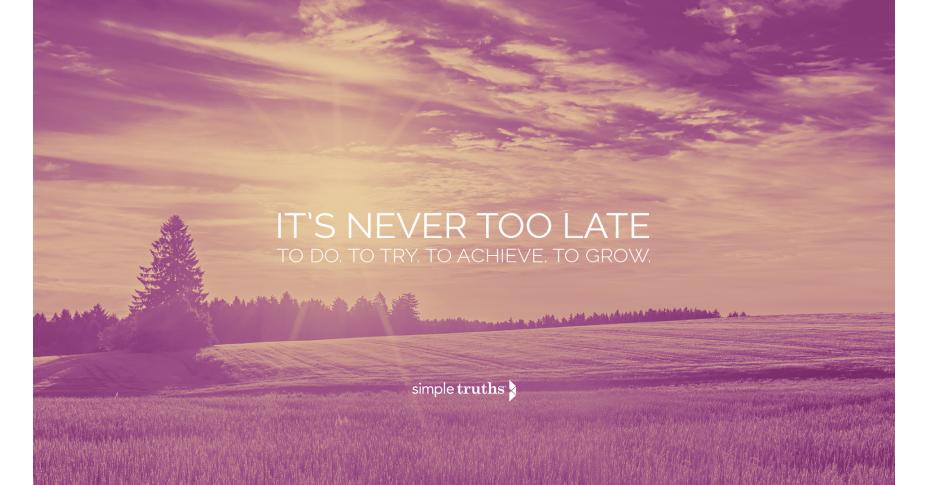 Resolve, Resolve
As a VERB, "resolve" is defined as "…firm determination to do something and committing to a course of action." Example? "This new year, I resolve to train for and run in a marathon."

As a NOUN, "resolve" is defined as "…consistently displaying the characteristic of determination, commitment and focus on forward thinking and forward action." Example? "When it comes to an unwavering focus on exceeding customer expectations, she has great resolve."

My first entry in this blog begins with "resolve" appropriately and importantly. After all, regardless of what our plans are and how we believe they will be accomplished, we need to start with defining a specific, realistic and important objective. Using words, lines and thoughts from my Simple Truths's book, Your Best is Next, establishing a goal and even building a plan comes after the commitment. Let us not forget that "commitment" is an act, not a word.

Legendary, iconic women's basketball Hall of Fame coach, Pat Summitt ("Coach of the Century" per the NCAA) told a story about how her son, Tyler, was cut while trying out for his school's eighth grade basketball team. Tyler came home after learning he didn't make the squad and told his mother, with tears in his eyes, "I didn't make the basketball team… I was cut."

Coach Summitt looked at her sad son who stood before her with basketballs under each of his arms and said to him, "Tyler, I promise you that if you start working today and wear out both of those balls practicing hard, you will make the team next year."

Tyler responded, holding back his tears, "Mom, will you help me?" Pat Summitt then replied to Tyler with incredibly profound words we all should remember especially as it relates to "resolve." She said, "Tyler, of course I will help you… but I will not start your engine!"

Commitment is the first step in starting our very own engine.

Commitment is an act, not a word. The keys to building a commitment to try new things, to do new things and to accomplish new challenges are:
having a crystal-clear purpose
making uncompromising sacrifices
adopting an unwavering determination

However, and it's a big "however," you first must commit to starting your own engine.

Not starting your engine and avoiding making a commitment to your "next" endeavor is clearly an obstacle to growth. Although we all need to be flexible in our approaches to fulfilling various commitments and objectives, it's still an undeniable fact that having no commitment leads you to having no attainment.

Having a crystal-clear purpose is vital. Purpose, in short, is tightly attached to direction. Ask yourselves the following questions to chart your direction:


How will I define success?
Why is this important me?
Does this light my fire and excite me?
What is my (specific) destination?
Which way should I be heading?
What is my contingency plan if course correction is needed?
How will I know when I reach journey's end?

People who resolve to committing to a course of action and people who are respected because of their resolve either find a way or create a way to achieve their objectives. They ignore thoughts or enticement for turning back and giving up.

Reverend Theodore Munger wrote, "Nothing in the world can take the place of persistence. Talent will not; nothing is more common than unsuccessful people with talent. Genius will not; unrewarded genius is almost a proverb. Education, alone, will not; the world is full of educated derelicts. Persistence and determination alone are omnipotent. The slogan 'press on' has solved and always will solve the problems of the human race."

Persistence is vital. It has been said that a river runs through rock not by its power but by its persistence. It's a continual process.

Passion is also vital. It's often the driving force that leads to commitment and to successful conclusion. If you want something badly enough and accept that hard work, diligence, focus, persistence and a major personal commitment (time, resources, energy, etc.) is necessary to achieve your goals, you will surely be on the first rung of the ladder climbing to fulfillment.

It takes courage to face the challenges, make the choices and even face the uncertainty that comes with your commitment to a purpose. Action is the key. Remember, commitment is an act, not a word.

Resolve. Resolve!

-Ira Blumenthal, author of Your Best is Next

For more on pushing forward towards new goals, check out Your Best is Next>>