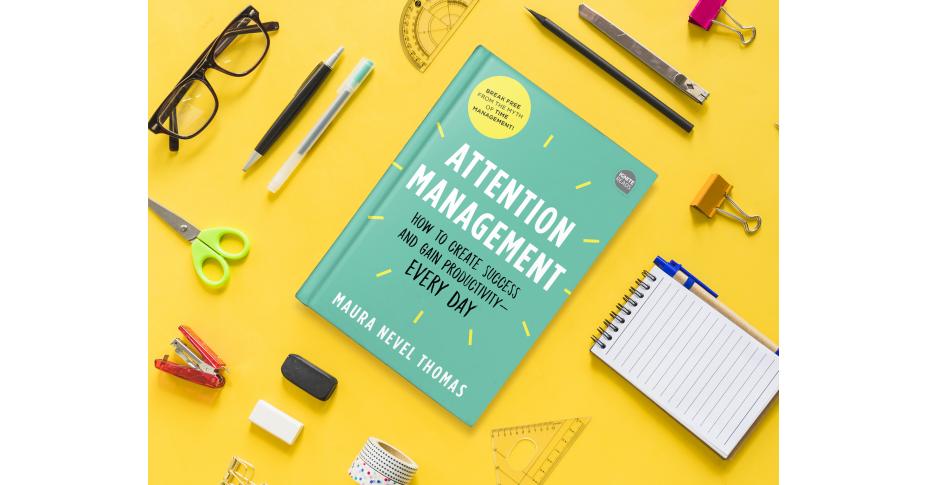 Manage Interruptions in the Workplace
Do you face constant interruptions in the workplace? These attention management strategies will increase your success
In my corporate workshops, participants often ask me how they can manage all the interruptions they juggle during their days. They need a strategy to balance being available and helpful to colleagues, while still having undistracted time to get important work done in a thoughtful way. The suggestions below are excerpted from my latest book, Attention Management: How to Create Success and Gain Productivity - Every Day.
Research shows that we switch our attention every few minutes, on average. Often, it's because we are interrupted by typical workplace distractions – a new email, a co-worker, a ringing phone. It's difficult to apply our brain power in a meaningful way in 3-minute increments! This means that we're not giving our best to our jobs, and it also leaves us tired, but unsatisfied at the end of the day.
Manage Interruptions to Avoid Being Distracted
We must have undistracted time to get important work done, so the first step is managing interruptions, or as I call it, "controlling our environment." For example, it's understandable to want to be helpful to colleagues, but an "open-door policy" doesn't mean we must be available all the time. Instead, it needs to be more like "office hours" — clearly defined times when we are accessible to others, and other times when we are not (except in case of emergency).
These "do not disturb" times must be communicated to co-workers, because once they've said, "Do you have a minute?", you're already distracted. No matter how deeply we're focused on a task and how much progress we're making, the slightest interruption — such as someone calling our name — is enough to make all that momentum go "poof!" Then it can take several minutes to several hours to work up to the same level of concentration.
All of these workplace interruptions hurt your productivity. If you have a door, close it. If people walk through it anyway, and you reward them with your attention, this indicates to them that the door didn't mean anything. You have to create boundaries, and then honor them. Otherwise no one else will either.
But even if you don't have a door, you can still set some boundaries. Put on headphones or give co-workers other indications that you would prefer not to be disturbed. I love seeing the creative and funny signs my clients post on their chairs after our work together, such as:
"Please do not disturb unless it's an emergency. Qualifying emergencies:
-I'm on fire.
-Oprah is looking for me."
Preventing these interruptions in advance helps us to use our time more efficiently, and to also create an environment where we can focus on our most important tasks. Progress on meaningful work is a powerful motivator, and the more we do this, the more productive and satisfied we tend to be.
Discover Your Ideal Balance
It's true that some jobs require more availability than others, such as human resources, customer service, and IT support. Remember, though: if you have other work that needs to get done besides being available to other people, you must create some of that uninterrupted work time.
Consider approximately how much of your work time requires thoughtful, independent work, and how much requires collaboration and availability to others. Make a note of the percentage split. It doesn't have to be precise, just the answer you come up with in a minute or two of thought.
Then, consider how you might organize your days and exert some control over your environment, even in an open office setting, to incorporate an open (and closed) door policy. Your percentage split can guide how much time per day your sign is up or your door is closed. You must be vigilant, though. If your "do not disturb" message is up all day, every day, it will immediately lose its effectiveness. What method can you use to give your colleagues the message that you're "in the zone" and would rather not be disturbed?
Considering these ideas may lead you to make some changes in your behavior.But even if it doesn't, let these ideas "percolate" in your brain for a while. Allowing constant interruptions is probably a habit you've formed out of necessity. And it's hard to break a habit you don't realize you have. With the points from this article on your mind, you'll become more aware of this habit of distraction.

If you want to learn more about Attention Management, click here!
A version of this article originally appeared on maurathomas.com.

You can preview and purchase the book here>>