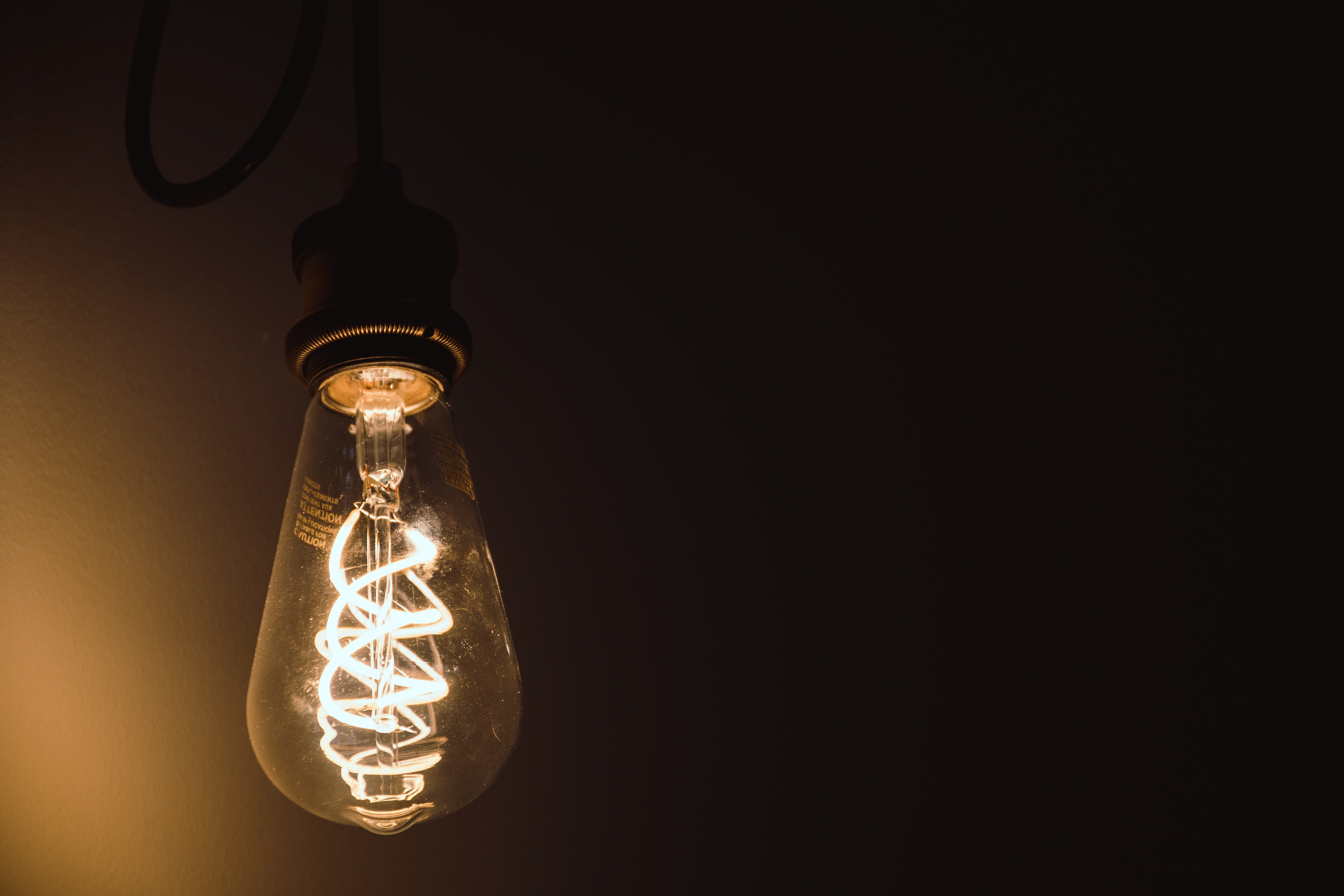 Perhaps you've thought about what the world will look like in the coming months as 2020 comes to a close.
Perhaps you are hopeful for what's to come and are prepared to take on any challenges.
Perhaps you believe all of this reflection, planning, and goal-setting is wasted effort because who knows where we'll be in a year.
Perhaps you're right. Or perhaps you'll be inspired by Thomas Edison—an inspirational leader for the ages whose patent for the light bulb was approved 140 years ago this month. "Genius," said Edison, "is one percent inspiration and 99 percent perspiration."
As you begin to think about how you'll light up 2021, consider the sacrifices and mindset required to bring your dream to reality. "Many of life's failures," believed Edison, "are people who did not realize how close they were to success when they gave up."
Try, Try, and Try Again
Before there was Steve Jobs there was Thomas Edison.
Edison earned 1,093 patents in the United States and a total of 2,332 patents worldwide for the phonograph, the microphone, the movie camera and a precursor to a modern-day tattoo pen. He received his first patent for an electric vote recorder when he was 22 years old.
Edison saw opportunity everywhere. "Opportunity is missed by most people," said Edison, "because it is dressed in overalls and looks like work."
Far from being an absent-minded dreamer, Edison realized that developing and commercializing ideas that could change the world required continuous learning, focus and persistence. Edison's inventions had a widespread impact on the modern industrialized world.
Developing the first light bulb was tedious work.
Edison spent most of 1879 testing more than 6,000 different materials to discover the best material for this application. Failure occurred daily. Rather than become discouraged and quit, Edison proclaimed, "I have not failed. I've just found 10,000 ways that won't work."
Edison was guided by four principles today's leaders can embrace:
Never get discouraged if you fail. Learn from it. Keep trying.
Learn with both your head and hands.
Not everything of value in life comes from books—experience the world.
Never stop learning.
After countless failures to harness incandescent light, Edison and his team determined that a carbonized bamboo filament could burn for over 1,200 hours, making it the best option for his light bulb invention.
"Our greatest weakness," believed Edison, "lies in giving up. The most certain way to succeed is always to try just one more time."
Cultivate Curiosity
As with any idea or new concept—no matter how remarkable—there's always room for improvement.
Edison was a lifelong learner. For him as for other inspirational leaders, invention was merely the first step in a process of continuous improvement. "There's a way to do it better," Edison would challenge his team. "Find it."
Indeed, his selection of bamboo as the material for the filament was later replaced by longer-lasting materials.
Edison possessed an encyclopedic memory and used it to test the aptitude of job seekers wishing to join his team of inventors. He believed discovery occurred when inventers connected dots between disparate facts, observations and other data. He famously asked each applicant 146 pre-selected questions to test the scope of their learning, knowledge, and ability to recall arcane facts under pressure.
Then as now, inspirational leaders ask questions of themselves and others to develop and nurture a culture of curiosity that can propel individuals, teams, and enterprises to new heights.
In the newly revised and expanded edition of my book That's A Great Question, I offer more than 1,000 questions in 20 different categories such as communication, time management, talent + teamwork, risk and accountability that the continuous learners I work with consider regularly.
Good leaders solve problems. Great leaders ask questions because they know asking great questions:
Builds confidence
Nurtures trust
Spurs growth
Affirms purpose
Unleashes potential
"I never did anything by accident," said Edison, "nor did any of my inventions come by accident; they came by work."
Stronger Together
The accomplishments we achieve are undergirded by the support of other inspirational leaders.
While Edison became known as "The Wizard of Menlo Park," he benefited from years of prior development and experimentation conducted by other inventors. Long before Edison patented the first commercially successful light bulb, Italian inventor Alessandro Volta developed the first practical method of generating electricity—the voltaic pile. Edison perfected Volta's invention.
Similarly, other inspirational leaders achieved limited success with the modern-day light bulb. Humphry Davy created the first electric lamp, Warren de la Rue developed a light bulb using a coiled platinum filament and Joseph Swan enhanced the light bulb with carbonized paper filaments. None of these inventions, however, were practical or cost effective.
Edison identified the problems with these inventions and solved them to develop the light bulb we know today. Who knows how much longer it would've taken Edison to develop his light bulb had it not been for those who came before him?
Today's inspirational leaders in the workplace shine a light on the talent around them to fully tap individual and organizational potential.
"If we did all the things we are capable of," said Edison, "we would literally astound ourselves."
Thomas Edison left his mark on the world through his far-reaching inventions.
How are you making your mark in the workplace? What other inspirational leaders can you look to for guidance?
While few of us are modern-day Edisons, today's leaders make an impact on those around them. If you're expecting great things in the year ahead and aren't entirely sure how you and your team will light up 2020, please contact me for a free consultation.
"What you are," said Edison, "will show in what you do."
- Greg Busin, author of How Leaders Decide